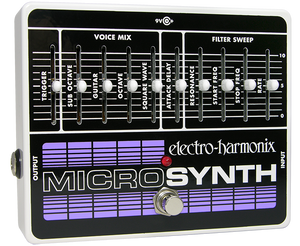 Mod Tiers:

Tier 1: Footswitch Upgrade
Tier 2: Tier 1 mod and Preamp Gain Mod
Tier 3: Tier 2 and 3 Tone Toggles Mod
***Modifications do not include the pedal itself. These prices are for the service to modify your pedal. If you would like to purchase a pedal that is sent to you already modded, please send us a message!
Mod Options:
Footswitch Upgrade Mod: This mod replaces the loud, chunky stock footswitch with a smoother and softer click footswitch.
Preamp Gain Knob: This mod relocates the internal preamp gain trimpot to the outside to more easily control the difference needed between single coils and humbuckers.
3 Tone Toggles: This mod adds three toggle switches to expand the tone of the trigger. When all three toggles are up, the pedal is the "blue micro synth." When all three toggles are down, the pedal is the "green bass micro synth." Mix and match to taste.